Schools
Sodt Elementary School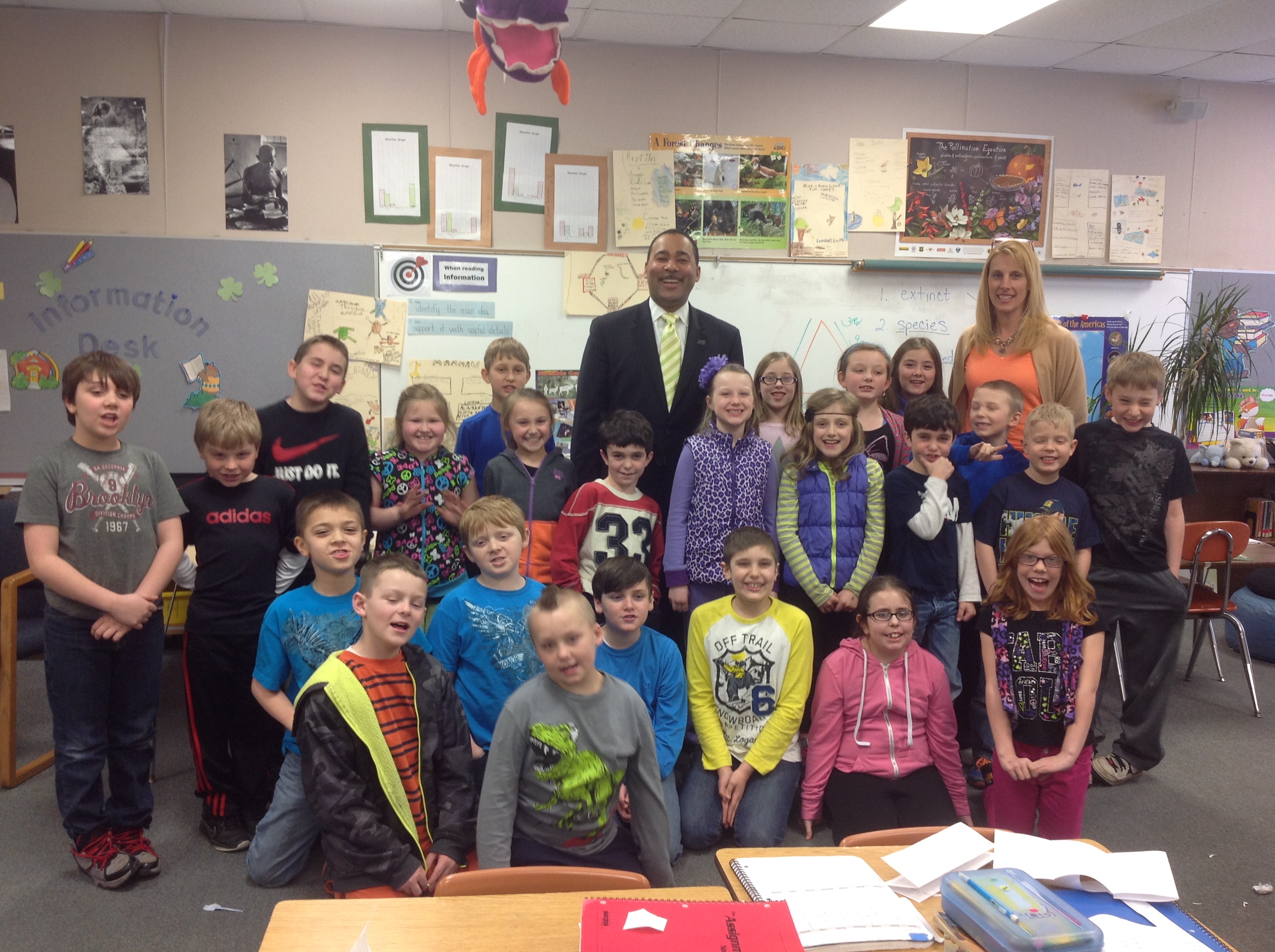 Meteorologist Andrew Humphrey from Channel 4 News visits Sodt Elementary School.
GESU Elementary School
About 15 volunteers participated in the assembly of eight (8) student benches on Saturday. The back of each bench swings 90 degrees creating a desk top for student use. Each bench seats 3 children. This project was part of a grant program sponsored by the NW Ohio Green Building Council (Karen Walker) in collaboration with the LEADERS program. The benches will be kept indoors in the winter and moved outside during the spring and fall months. This flexibility offers a perfect alternative outdoor learning center at the school.
IDA Elementary & High School
Scott LaRoy and Jacob Anastasoff (high school teachers) along with Stacy Maynard (elementary teacher) are part of the LEADERS program at The University of Toledo. They recruited volunteers to build a greenhouse and benches for a learning space at Ida Schools. Karen Walker, who chairs the green schools committee of the Green Building Council chapter, lead the construction of the greenhouse. Thank you to all who volunteered!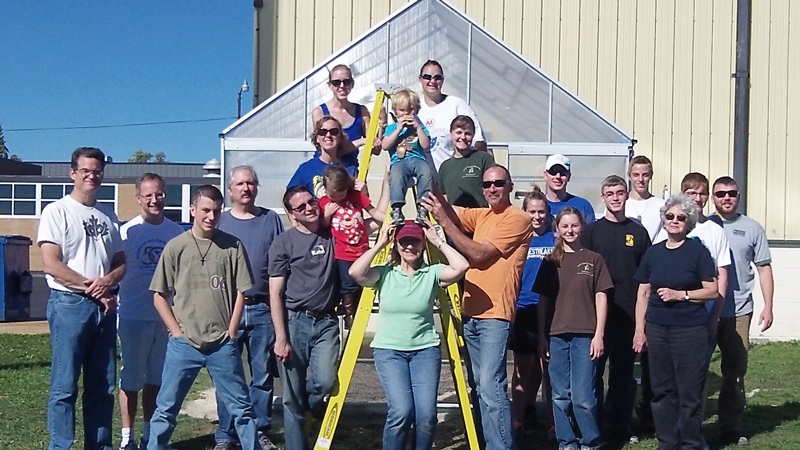 Karen Walker, Scott LaRoy, Jacob and Chelsey Anastasoff, Stacy Maynard, Tom Dykstra(principal), Erica Deindoerfer, Kevin and Robbie Czajkowski
Trinity and Scarlet Adams, Jacob Assell, Erik Bugg, Jack Coulter, Erin Curley, Joey Ferrara, Jacqueline and Jessica Foshag, Jeff Gaines, Phil Garland, Mitch Huss, Garrett Longstreet, Peggy Matta, Anthony Offak with Lily and Xavier as assistants, Pankaj Patel, Rodica Phillips, Deanna Roach, Tony Scott, Bert Wagner, Allie Yorkey, Andre and Yael Zoldan.
Sodt Elementary
Greenhouse Build
About 20 volunteers from Monroe County including about eight members from the Chrysler assembly plant were on hand to construct Sodt's new greenhouse. The project with a material value of about $2,000 is part of an award given by the NW Ohio Green Building Council. Teacher LEADERS Jean Kull and Tricia McClosky will be introducing new agricultural studies into their classroom this year and the greenhouse will be a part of that student involvement. More than a half dozen businesses contributed in-kind services to the effort. The all-day event takes about 150 man-hours to complete.
Airport High School Greenhouse Build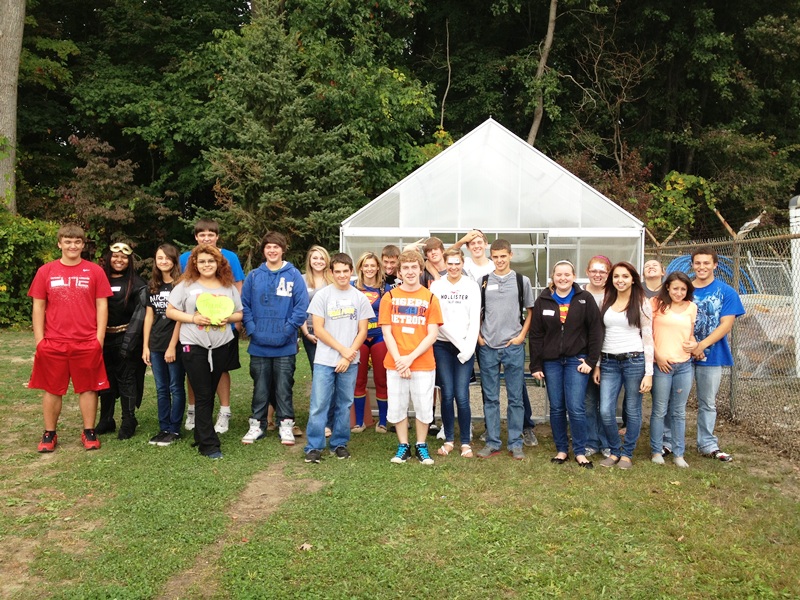 Airport High School volunteers work on building a greenhouse Saturday September 28, 2013 behind the school. As part of Green Apple Day of service. [Full Story] [Photos]
Central Catholic High School Greenhouse Build

Central Catholic High School volunteers work on building a greenhouse Saturday September 28, 2013 behind the school. As part of Green Apple Day of service.
First row: DeSean McKinley, Maggie, Isaac McKinley, Emily.
Second Row: Kristin McKinley-David, Alicia, Amanda, Christina Florence, Victoria.
Third row: Steve Shrake (AIA, LEED AP ® BD+C), Karen Farran (LEED AP ® BD+C), Karen Walker (AIA, LEED AP ® BD+C), Erin Curley (AIA Associate, LEED AP ® BD+C), Christopher Strayer
Kristin McKinley-David and Christina Florence, teachers of Central Catholic, rounded up high school students to assist in the construction.
[Full Story] [Video]
Steve Shrake, Karen Farran, Karen Walker, Erin Curley, Christopher Strayer are all part of the local Chapter of the U.S. Green Building Council.
Jacob Anastasoff and Scott LaRoy Host PD's at the University's Science Labs
Seven Monroe County district teachers and UT personnel visited the confocal and electron microscope facilities learning about its operations and how to interface via internet to their students back in their classrooms. This unique opportunity allows students outside the university to have access and interact with over $500,000 worth of equipment. Another instructional session is scheduled for January of 2014.
Pickett Students Visit OI – Andrea Bennett
More than fifty of Pickett's 6th, 7th and 8th grade students visited OI's research facility as they learned about Toledo's history in glass manufacturing. Each group of students gained insight on how glass is made today by visiting about a half dozen research stations from glass production, CAD operations, robotics to bottling. To top off the tour, OI provided pizza for lunch and a gift bag for each student.
Oregon Wastewater Treatment Plant Tour - Tysen Belcher
As part of Tysen Belcher's PD fact gathering mission, she visits Oregon's Treatment Plant to learn the "ins and outs" of how our wastewater is treated and recycled to the lake. Bob Martin, Superintendent of Oregon's Wastewater Treatment Plant led the tour.
Sodt Elementary "Lighting Story" - Jean Kull
An incandescent and CFL light bulb are hooked to a meter reader to test for their energy usage and efficiency as part of a presentation by Glenn Lipscomb, Professor of Chemical and Environmental Engineering at University of Toledo, to a 4th grade class at Sodt Elementary School. Students learned about the differences between CFL, Incandescent, and LED light bulbs as they discovered which is the best bulb to buy for your household.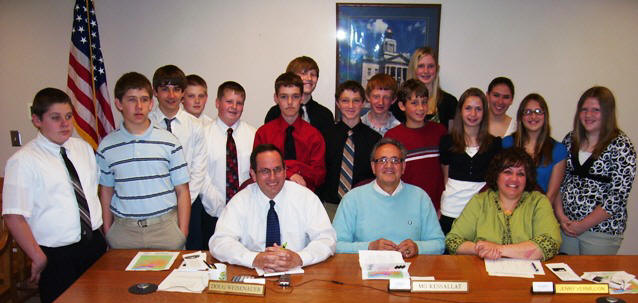 LEADERS Teacher Mary Obringer's seventh grade class from St. Bernard School in New Washington presented four proposals on alternative energy sources for Crawford county to the county commissioners. The students researched solar, wind, methane and biomass and then determined how to implement the energy to generate electricity for their county.